BREAKING, WARNING: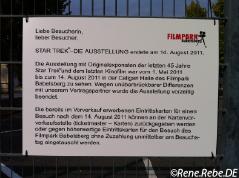 This year the Filmpark Babelsberg hosted a Star Trek exhibition, that was advertised to run until the 31st of October. Since my last and only visit to the Babelsberg studios was in 1995 we decided to use the sunny yesterday to finally visit the exhibition. Unfortunately, and to our biggest disappointment we had to find the exhibition cancelled way before the official end.
And this despite we even looked up the opening hours on their website in the morning. I can absolute not understand how a major organization can fail to publish breaking developments such as canceling the show on their website, or local news(paper). Yet, they can even print a plate as shown above!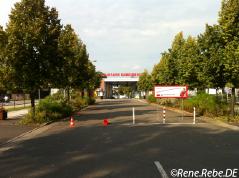 I can imagine they like to still get the some extra visitors that arrive just for the Star Trek exhibition to find the event cancelled and yet visit the park nonetheless, though, …
Left disappointed at the entrance, we decided to rather leave for an ice cream in the sun at the nearby lake Griebnitz.